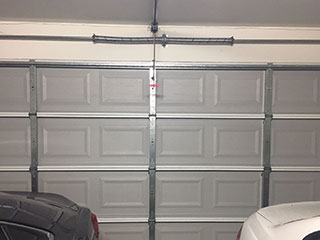 Garage door springs are probably the hardest working part of your automatic door system, yet many owners neglect to have them replaced in time when they start to show signs of wear.
The Job Of The Springs
These crucial components are responsible for evenly supporting the significant weight of the door itself, and create the balance needed for smooth and seamless operation. Installed in pairs on opposite ends of the door, two springs are required to evenly distribute its bulk. When one or both of the springs show signs of weakness, this can have a negative impact on the workings of the door before the spring even fails.
Where Does The Damage Come From?
Much of the damage suffered by springs is unavoidable. The stress of their task in supporting the door takes its toll over time, resulting in the gradual wearing down of these components. Asides from this, galvanic corrosion from contact with electrified metals, rust from damp and harsh weather conditions and even minor accidents all have their part to play in the deterioration of springs. If yours are showing any signs of trouble for any of the abovementioned reasons, now is the time to have your springs replaced by a professional technician.
Why Tension Matters
If either a torsion or extension spring becomes over or under extended, it won't be working as effectively as it could be. If you find your door is dropping much faster than it used to, this is usually a definite sign that one or more of the springs requires tension adjustment by a professional.
What Happens If Only One Extension Spring Breaks?
If just one of your extension springs has broken, it can be tempting simply to replace the damaged one. This could, however, lead to further problems down the line, such as misalignment - it probably also won't be long until your functioning spring also fails. We always recommend homeowners replace these components together - after all, they usually come as a pair.
If your springs are giving you trouble, don't hesitate to resolve the issue. Our team at Garage Door Repair Buckeye are here to help you solve the problem with as minimum hassle as possible.
You can also count on us for:

Torsion Spring Repair

New Garage Door Installation

Screw Drive Opener Replacement

Broken Spring Replacement & Repair