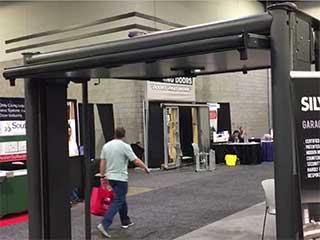 A new garage door is a fantastic way to add value and curb appeal to your property. Modern models also benefit from advanced construction techniques that provide better security, durability and efficiency. There are many different types to choose from, and homeowners can find it difficult to work out exactly which type of door is right for them. That's why we've put together this quick guide to help you choose your new door.
Decide On a Material

The first decision to make is what material your door panels will be made from. This makes a huge difference - do you want a lightweight, easy to use door? Or perhaps something heavier and more durable? There are a lot of materials to choose from; plastic, aluminum, steel, and wood – both faux and real. They all come with different strengths; lighter doors like plastic and aluminum are generally easier and cheaper to install, but aren't as strong as heavier materials like steel or wood.

Is Your Opener Strong Enough?

You should always first ensure that your garage door opener is going to be able to support the weight of your new panels. If your new door weighs significantly more than the one it's replacing, it could put a lot of strain on the opener. Check the horsepower rating of your motor unit, and consult our technicians to see whether you'll need a stronger drive system too.

Choose A Beautiful Design

Garage doors come in a huge variety of styles and designs. You can even choose different styles of faux wood, using replica grains from real timber. There's a lot of choice, so be sure to consider them all before you make a decision. Our team can make sure you don't neglect to check out everything the market has to offer.

Arrange a Professional Installation

Once you've decided on the door you want to get, it's time to have it fitted. The best way to do this is to go through us - our long history of working with top brands like Amarr, Clopay and Windsor means we can complete the garage door installation process safely and reliably. It's very important that this is done correctly, to avoid a whole host of issues down the line.